Notice of Sale of Land by Public Tender
*Tender information and prescribed forms available at the bottom of this page. Hard copies are available at the municipal office.*
Take Notice that in accordance with By-Laws 88-2019 and 89-2019 tenders are invited for the purchase of the lands described below and will be received until 12:00 p.m. local time on Wednesday June 1, 2022 at the Municipality of Morris-Turnberry Municipal Office at 41342 Morris Road, Brussels.
The tenders will then be opened virtually on the same day as soon as possible after 12:00 p.m.  Details for accessing the tender opening online or by phone can be found at the bottom of this page. 
Tender results will be presented to Council for acceptance on Tuesday June 7 during the regularly scheduled Council meeting, and successful tenderers will receive notice on Wednesday June 8.
Tenders must be submitted on the prescribed form (Tender to Purchase) and must be accompanied by a deposit in the form of a money order or of a bank draft or cheque certified by a bank or trust corporation payable to the Municipality of Morris-Turnberry and representing at least 10 per cent of the tender amount.
Those interested in submitting a tender are encouraged to indicate their interest to the Clerk so they may be contacted should any addendums to the tender packages become available.
For further information regarding this sale contact:
Trevor Hallam
CAO/Clerk
Municipality of Morris-Turnberry
41342 Morris Rd., PO Box 310
Brussels, ON, N0G 1H0
519-887-6137
Alternative formats are available upon request.
Description of Lands: Concession 5 part lots 2 and 3, RP 22R9999 Parts 1 - 8 and
14 – 17, Morris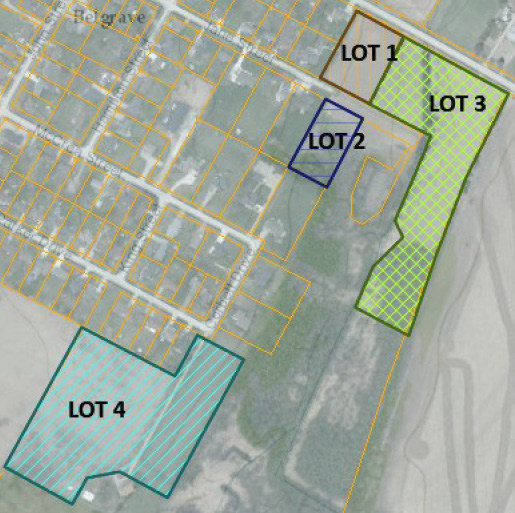 Additional Information - All Lots
Tender Opening Attendance Details
ELECTRONIC PARTICIPATION ONLY
The tenders will then be opened in public on Wednesday June 1, 2022 as soon as possible  after the close of tenders at 12:00 p.m.
Participate on your desktop or mobile device, or by telephone using the details below
Join Zoom Meeting online
https://us02web.zoom.us/j/89486982919
Meeting ID:
894 8698 2919
Join by telephone
+1 647 374 4685 Canada
+1 647 558 0588 Canada
Meeting ID: 894 8698 2919